Geez, what happened to this week? I remember Wednesday morning thinking the week was going soooo slowly, but now suddenly it is Friday afternoon and I wonder how that happened. What did I do this week? I'm honestly having to actually think about that. I was over at Truly Lovely getting ready to hop into the Fancy This Friday linky party when I had to sit back and really think about what I had made this week. I decided that my week of meals from leftovers qualified, so if you want to see what everyone else did, pop over there and take a look around.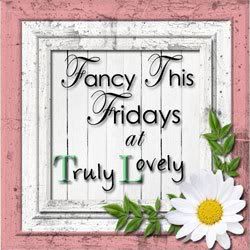 I did start another cute cotton baby bonnet that I will share with you as soon as its done. Its a take off of the whole color block thing that seems to be really popular right now. And its bright and fun. Why should babies be limited to pastels? I would like to get a few more things done before next weekend's show at Ida Red, but the time seems to be getting away from me.
I have high hopes for that show. I have high hopes for every show, but let me just say, real quick, that I have been a bit disappointed in the response to the cotton turban style headbands. I love them, I loved making them, the colors are totally the in colors (well, except for maybe Honeysuckle, cause I didn't run out and pick any up, not being a pink person) , I see things in the turban silhouette everywhere, so I am not exactly sure why the response has been underwhelming. I do plan to add more of them to my etsy after the Ida Red show. Perhaps they just haven't "found their audience" yet. ::shrug:: (I do have to say that being a knitter and a seller of knitwear is soooo much easier in the winter. And its not that there aren't things to knit in the summer, its just that a lot of times it seems like the general public doesn't even look at it because they think of knitwear as a cold weather thing)
So, goals for this weekend:
Clean the house
Finish planting the garden
Not forget to wrap the bachelorette party present.
Finish at least one baby bonnet and hopefully knit a thing or two more for the show.
Make sure that my husband and my puppies know that I think they are awesome.
What are your goals for the weekend?