Here is a list of giveaways you might be interested in. Feel free to comment with any other awesome giveaways you know about.
First there is
this giveaway
for So Cute it Hurts. It's over at Sandy a la Mode.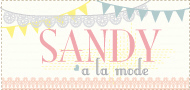 Next up,
this giveaway
from Little Chief Honeybee. It's an intriguing little camera and I wouldn't mind experimenting with one. I am by no means an awesome photographer, but I do have fun with it. Anyhow, if you don't read LCH already, you should really check out her blog.
Another giveaway from Sandy a la Mode,
this one is
jewelry. And I do love jewelry. Pretty Things by Meg really is full of pretty things!
And again from Sandy a la Mode,
this time
the treats are from Cotton Lane. I love the blue bird bow headband in that shop. So pretty, and I am sure you all know by now how much I love bows.
Good luck!