Holly from Holly Knitlightly is giving away a giftcard to CSN. Go
here
to check out her blog and her current giveaway. Personally, I really want the fondue pot. We registered for one but never got one, so I think it would be a great addition to my kitchen. While you are over at Holly's blog, check out all the holidays she is celebrating this year.
You might also notice a section of bloggerific friends on the sidebar. Holly's button is definitely going to be a party of this section. Look how cute it is:
Next up is
this awesome giveaway
from Little Chief Honeybee. If you have never been to Kaelah's blog then you definitely need to go visit and the two sponsors in this giveaway look pretty cool.
And there are a number of giveaways going on here: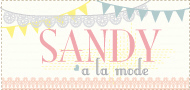 Sandy has great sponsors, so stop by her blog and look at all the different things that they are giving away this week.
ok, I think thats all I've got. Enjoy the giveaways! :-) And if you haven't enter the giveaway here for the skein of Farm Girl Fiber sock yarn, then go do it! It's such fantastic yarn, I love it!!!